Why is it called a Cowboy Steak?
Cut from the "primal rib" or "rib" section of the cow. The cowboy steak cut is a ribeye with the rib bone still attached. Similar to a tomahawk steak, the bone sticks out of past the meat but is not as long. The "Short-Bone Tomahawk" is another name for the Cowboy cut.
Mr. Steak's 32oz Cowboy Steaks undergo cleaning using a technique called "Frenching." This results in the trimmed fat and meat exposing the bone. The sheer size and ruggedness of the cut along with the handle-like bone have earned it the name "Cowboy."
The Cowboy Ribeye Steak is perfect for special occasions. You will be amazed at the juicy tenderness after grilling a Cowboy steak. Truly one of the top cuts of steak that Mr. Steak offers.
cowboy steak vs tomahawk
These two ribeye cuts differ by the length of the bone. Both cuts go through the "Frenching" cleaning process to trim the excess fat and meat off the rib bone. This is why both these cuts are so easy to handle and you can hold them by the bone.
A Tomahawk cut has a lengthy bone making the steak resemble the tomahawk axe. The long rib bone adds flavor to the meat when it cooks. This cut is very delicious, but remember that the weight of the whole steak includes the bone.
A Cowboy cut steak has a trimmed rib bone, resembling a handle. The same cut of beef as a tomahawk, but without the added weight of the lengthy bone. This big piece of beef, with a handle, earned the title "Cowboy" Steak because it is rugged and suitable for cowboys.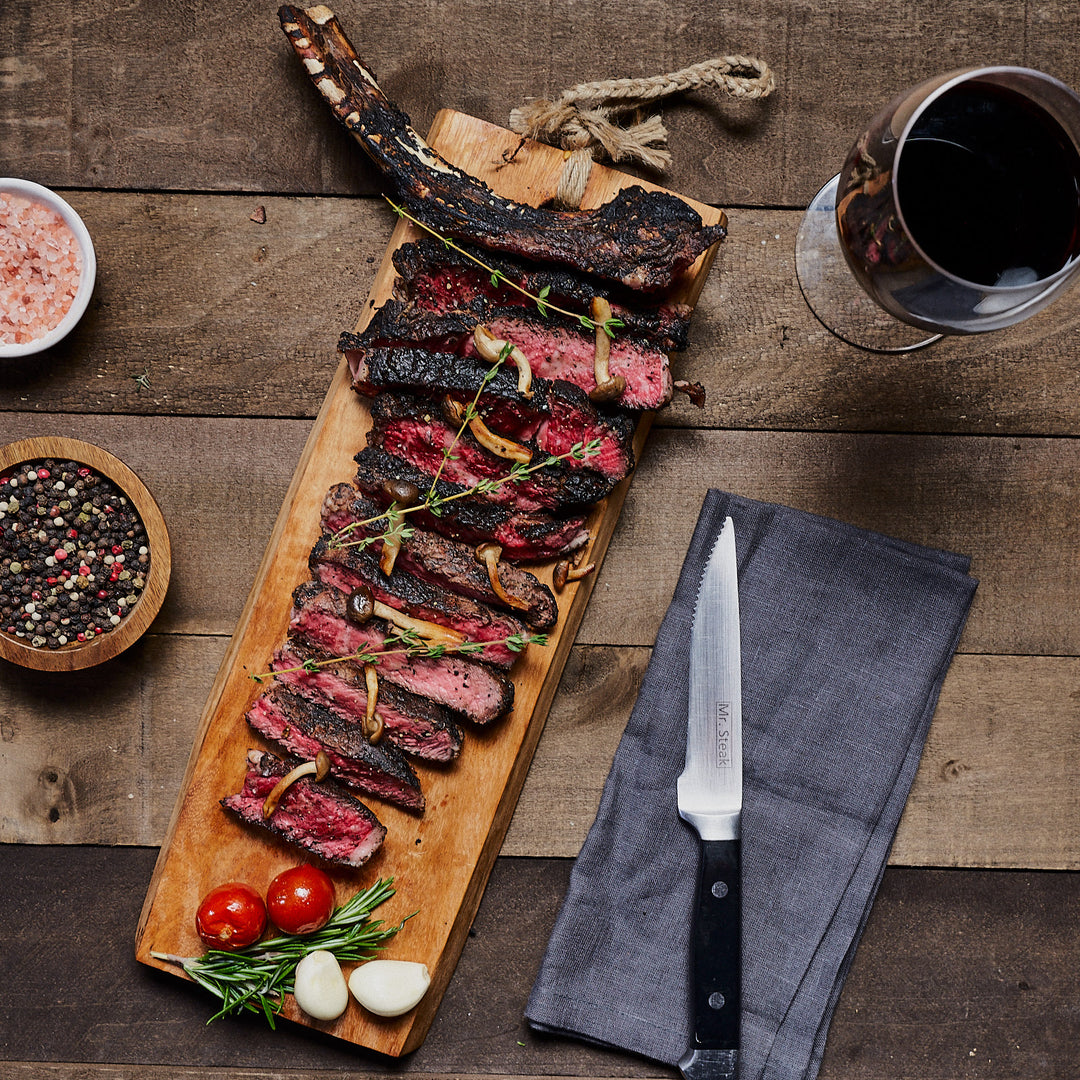 How To Cook Cowboy Steaks
Mr. Steak recommends grilling this majestic cut on high heat. This will create a delicious sear and help lock in the flavor. The thickness of the cowboy allows it to handle a lot of seasoning, so don't be shy.
Because they are naturally thick, we will use both direct and indirect heat to cook. If you want that delicious medium rare doneness, sear each side for about 5-6 minutes on direct heat. Once it's charred to your likeness, move them over to indirect heat and let it sit for about 8-10 minutes.
Take it off the grill and let it sit for about 4-6 minutes and let the juices settle. Look for an internal temperature of 130-140°F for medium rare. Adjust the indirect heat time to tailor to your desired doneness.