Where is a Porterhouse Cut From?
The Porterhouse steak is one of Mr. Steak's favorite cuts of meat. He loves this prime beef cut because it's so huge. It's actually two steaks in one. It comes from rear end of the short loin where the tenderloin touches the top loin.
The T shaped bones in the middle of porterhouse steaks separate the New York strip sections from the filet sections. Although they're similar to T bone steaks, porterhouse steaks have a larger piece of the tenderloin attached to the bone.
Porterhouses give you the best of both worlds. Tender, elegant filet mignons alongside juicy, flavorful New York Strips. They're perfect for family dinners.
Mr. Steak's USDA prime porterhouses are 24oz, but they can get as large at 40oz. That's why people call them, "The King of Steaks."
HISTORY OF THE PORTERHOUSE
The name Porterhouse gained popularity in the 1800s. Back then, people called restaurants porter houses because they sold a kind of beer called porters. There are numerous legends for how the name for restaurants shifted to the name of this individual cut. But the earliest reference to "porterhouse steaks" seems to come from a letter in a 1843 newspaper in the Hartford Courant.
The next year, the term porterhouse steaks appeared in the New York Herald. From there, the name took off and joined the American lexicon.
What is a Porterhouse Steak?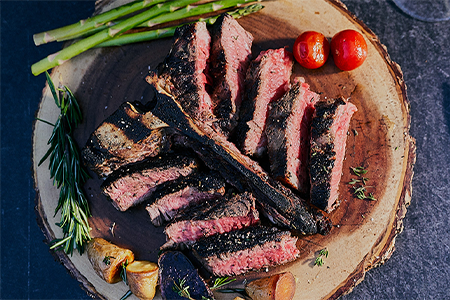 How To Cook Porterhouse Steaks
Mr. Steak recommends grilling porterhouse steaks on high heat. This will char the outside and lock all the flavor inside. Because it's so thick, it'll need to stay on a little longer to cook all the way through.
For a medium rare interior, grill for about 6 minutes on the first side and 5 minutes on the second side. Aim for an internal temperature of 130-140°F.
Always allow your steak to sit for 4-6 minutes after cooking to let the juices settle.
If you decide to pan- sear, searing each side on the skillet and placing it in the oven for about 4 minutes at 400°F to finish cooking inside works best.
Always allow your steak to sit for 4-6 minutes after cooking to let the juices settle.